Eternium
1.4.51
Action RPG – Embark on the Quest to Bring Ragadam to Justice
Do you like playing role-playing games? Would you be interested in embarking on an epic adventure? If yes, then you will find this action RPG to your liking. Eternium is a cool game in which you get to go on an adventure that takes you through various scenic locations while fighting an unending army of zombies and automatons. It lets you pick a hero of your choice and then level it up by completing the various quests assigned to you. Through the course of this game, you will have to travel to various places and explore mysterious lands. Your journeys won't be easy, though. An army of skeletons and zombies will try to block your path from reaching your ultimate goal, finding and defeating Ragadam.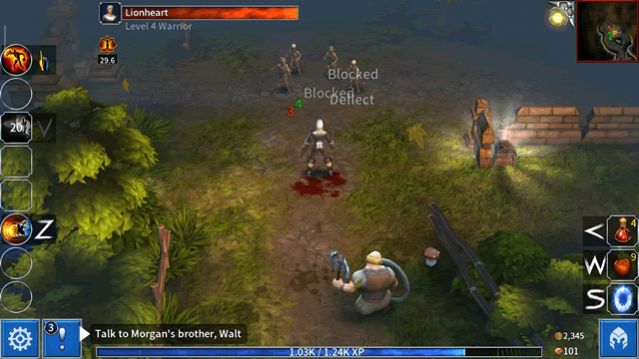 Eternium has immersive gameplay that is well-supported by stunning graphics. The visuals are crisp and capture every detail of the world around you. Moreover, the sound effects and music are well-suited to the environment as well. It helps in setting the mood for the adventure ahead. However, the thing that separates this action RPG from its peers is its intuitive movement controls. You get to move your character in any direction by tapping on the screen ahead. There are no buttons or virtual joysticks to worry about. Also, for casting spells or using abilities, you just need to draw symbols on the screen. This intuitiveness of the controls ensures that the action flows seamlessly without hindrances and the battles are more fast-paced and enjoyable.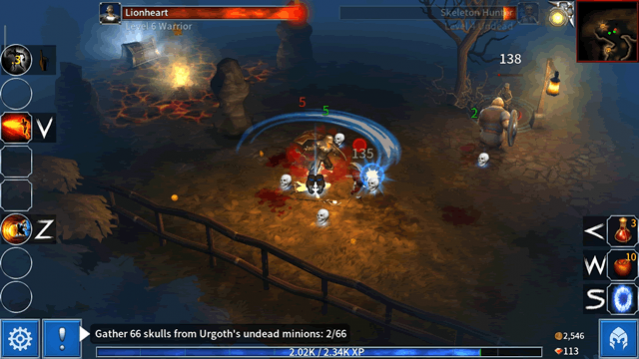 This action RPG offers three different classes of heroes to you. You can be a Mage, a Bounty Hunter or a Warrior. After making your choice, you will have to play the entire game with that chosen hero. You will have to perform the various quests that are assigned to your hero. Completing each quest gives you experience that will help you in leveling up your character. Moreover, you will also be awarded gear that you can equip to your hero. You can also find and open treasure chests on your travels and search for legendary and epic gear. Equipping an epic gear to your hero will raise his attributes and make him more powerful. You can make the gear more powerful by fusing gems in its sockets.
Eternium lets you fight alongside a team of characters that will assist you on your journeys. Your team members will have different attributes and abilities than your hero. You will have to combine their abilities with your hero to defeat the enemies at higher levels. As you gain experience and move further into this action RPG, you will unlock and get the chance to upgrade new abilities. Aside from constantly upgrading abilities, you need to equip better gear to your heroes too. This would require you to sell or drop common gear whenever you come across legendary gear items. You will have to do this because your inventory space is limited and can't be increased after a certain point.
Features:
Three different classes of heroes
Multiple game modes to enjoy
Level up your heroes by completing quests
Fight an ending army of skeletons and zombies
Explore scenic landscapes in search of the villain
Find and equip epic gear to strengthen your heroes
Craft socketed gear and fuse gems in them
Upgrade your hero's abilities to make them strong
Intuitive movement and spell-casting controls
Sell or drop items from inventory to make space
Conclusion:
Eternium is a gaming app that is ideal for people who are fans of RPG and action games. It provides them the chance to play the role of the hero and go in search of the villain across multiple lands and put an end to its evil plans. It is an action RPG worth having on your phone that will keep you entertained for hours on end.
---
Add a review
Tell us your experience with
Eternium
1.4.51
RELATED PROGRAMS
Our Recommendations
---
---
---
---